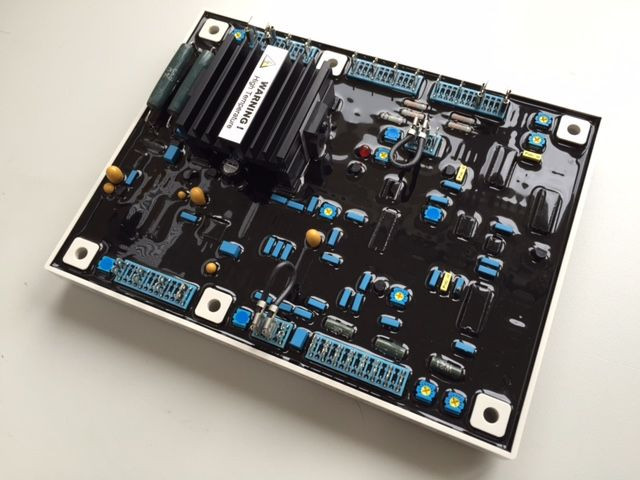 SP Powerworld EA321
Automatic Voltage Regulator for PMG Generator
The SP Powerworld EA321 Compatible Voltage Regulator is a direct replacement for the Original Stamford* MX321. It's also Compatible with the following Stamford* models:
MX321-2 - E000-23212 - E000-23212/1P - Onan 305-0823.
Ex stock - shipped Worldwide. For GBP, EURO or USD pricing please contact us:
Sales: james.daff@sp-powerworld.com
Office: info@sp-powerworld.com
Tel: +44 (0)115 923 2568 (United Kingdom)
Tel: (24-hour) +44 (0)7484709956 (United Kingdom)
*All manufacturer names, numbers, symbols and descriptions are used for reference purpose only and do not imply that any part is the product of these manufacturers.
Features
Voltage Regulation < ±0.5% RMS
For Use In Parallel Operation
RAMP, DIP, DWELL, DROOP, RMS, U/F, Over Voltage & Over Excitation Adjustment Functions
Over Exc. / Over Volt. & UFRO LED Indicators
Current Limiting Function
Specifications
Model NO.
EA321
Sensing Input
Voltage 190~264 VAC 2 phase or 3 phase
Frequency 50/60 Hz selectable
Power Input(PMG)
Voltage 170~220 VAC 3 phase 3 wire
Current 3A / phase
Frequency 100~120 Hz nominal
Output
Voltage Max. 120 VDC
Current Continuous 4A, Intermittent 7A for 60 sec.
Resistance Min. 15 Ohm
Voltage Regulation
< ±0.5% RMS (with 4% engine governing)
Voltage Build-up
Residual volts at AVR terminal > 5 VAC
External Volts Adjustment
±10% with 5 K Ohm 1 watt trimmer
Unit Power Dissipation
Max. 18 watt
Thermal Drift
0.05% per °C change in AVR ambient
Soft Start Ramp Time
0.4~4 sec.
Analogue Input
Max. input ±5 VDC
Sensitivity 1V for 5% generator volts
Input Resistance 1 K Ohm
Droop Input
Burden 10 Ohm
Max. Sensitivity 0.22A for 5% droop (PF=0)
Max. Input 0.33A
Under Frequency Protection
(Factory Setting)
Set point 95% Hz
Slope 100~300% down to 30 Hz
Max. Dwell 20% volts/sec. recovery
Current Limit Input
Burden 10 Ohm
Sensitivity range 0.5~1A
Over Voltage Detector Input
Set point 300V
Time delay 1 sec. (fixed)
CB trip coil volts 10~30 VDC / 0.5 Amp
Over Excitation Protection
Set point 120 VDC
Time delay 8~15 sec.
Environment
Operating Temperature : -40~70 °C
Storage Temperature : -40~85 °C
Relative Humidity : Maximum 95%
Vibration : 3.3G @ 100~2 KHz
AVR Controls Functions
VOLT : Output Voltage Adjustment
STAB : Stability Adjustment
UFRO : UFRO Knee Point Set
DROOP : To Set the Droop to 5% at PF=0
TRIM : To Optimize Analogue Input Sensitivity
EXC : Over Excitation Trip Level Set
DIP : Hz Related Voltage DIP Set
DWELL : Hz Related Recovery Time Set
I LIMIT : Stator Current Limit Set
OVER V : Over Voltage Trip Level Set
RAMP : No Load Voltage Ramp Set Time
RMS : Root Mean Square of Generator
Dimensions
203.0 (L) x 153.0 (W) x 39.1 (H) mm
Weight
530 g ±2%
*Note : All features & specifications subject to change without notice.
Dimensions